Attention passion-led coaches & professional service providers:
Get Strategic about Using Social Media as a Tool to
Grow Your Business

(Not Take Over Your Life) Join Today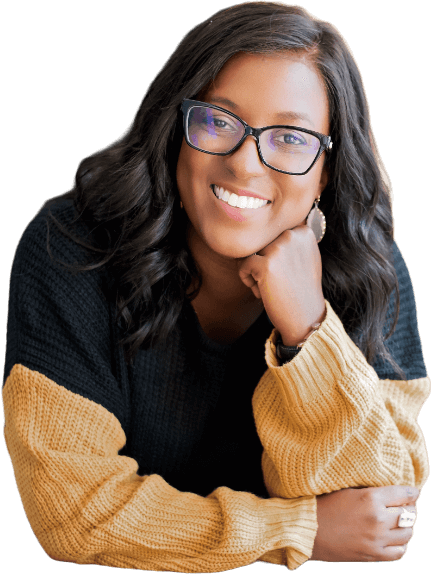 You know social media marketing is an unavoidable part of owning an online business in 2022,
but does it have to mean…
Googling how to make a Reel for hours because your account doesn't look like other coaches'?
Falling down the rabbit hole researching how to do "the thing that was supposed to be quick and easy"?
Feeling like you're going off the deep end watching YouTube tutorials that skip the first few steps (as if you SHOULD already know them)?
Absolutely not.
The social media world can feel like the Wild West, and it's all too easy to get overwhelmed, but I'm going to not only help you make sense of it all, but also get amazing results from your hard work.
Hi, I'm Andréa Jones
---
Before I was the owner of a social media marketing agency and host of a top-100-rated marketing podcast, I struggled with social media too.
I was a Free Spirit. I'd have bursts of inspired posting one week and then months of procrastination at its finest, UNTIL…
…I discovered the power of taking one little step each day to use social media as a tool to grow my business.
Consistency brought me better results, but I got burned out from all the negativity in my feed and feeling like I had to respond instantly to every notification. So I took CONTROL of my relationship with social media by turning off notifications and meditating.
That's when I realized you have to be strategic. Not just with the growth part. Not just with protecting your peace. But with EVERYTHING. So you can scale sustainably while fulfilling your true purpose: using your voice for good, serving others, and adding more light into the world.
And if I can do it, so can YOU, WITHOUT…
Waking up at 4:45 am to create and post NEW content everyday.
Filming yourself singing & dancing for TikTok ( → when you don't even do that IRL!).
Dropping thousands of dollars on Facebook ads before you're ready.
Stealing the show with your wit and charisma.
Or even starting out with a single follower.
How?
Join me and the hundreds of passion-led coaches, experts, and service providers I teach in…
The Savvy Social School Where we believe you can take one little step each day & build your social media savvy overtime.
What if you
knew the exact next step

to leverage social media as a tool to

grow your business

?

Right now.
You Can!
I'll show you how to get started so that you're never left guessing what to do next.
And start using social media as a tool to grow your business spending just 20 - 30 minutes a day. So you can create connections, build community, and make your difference in the world.
Your first step…
Join Today
The Social Media Rockstar Framework
Social media is a powerful marketing tool.
The problem? Most business owners pick up the tool before they really know how to use it. Or why they're even using it. Then they get overwhelmed and frustrated.
Not YOU. I'll start you off with the BIG PICTURE strategy for using social media as a tool to amplify your message, build your community, and grow your business on any platform: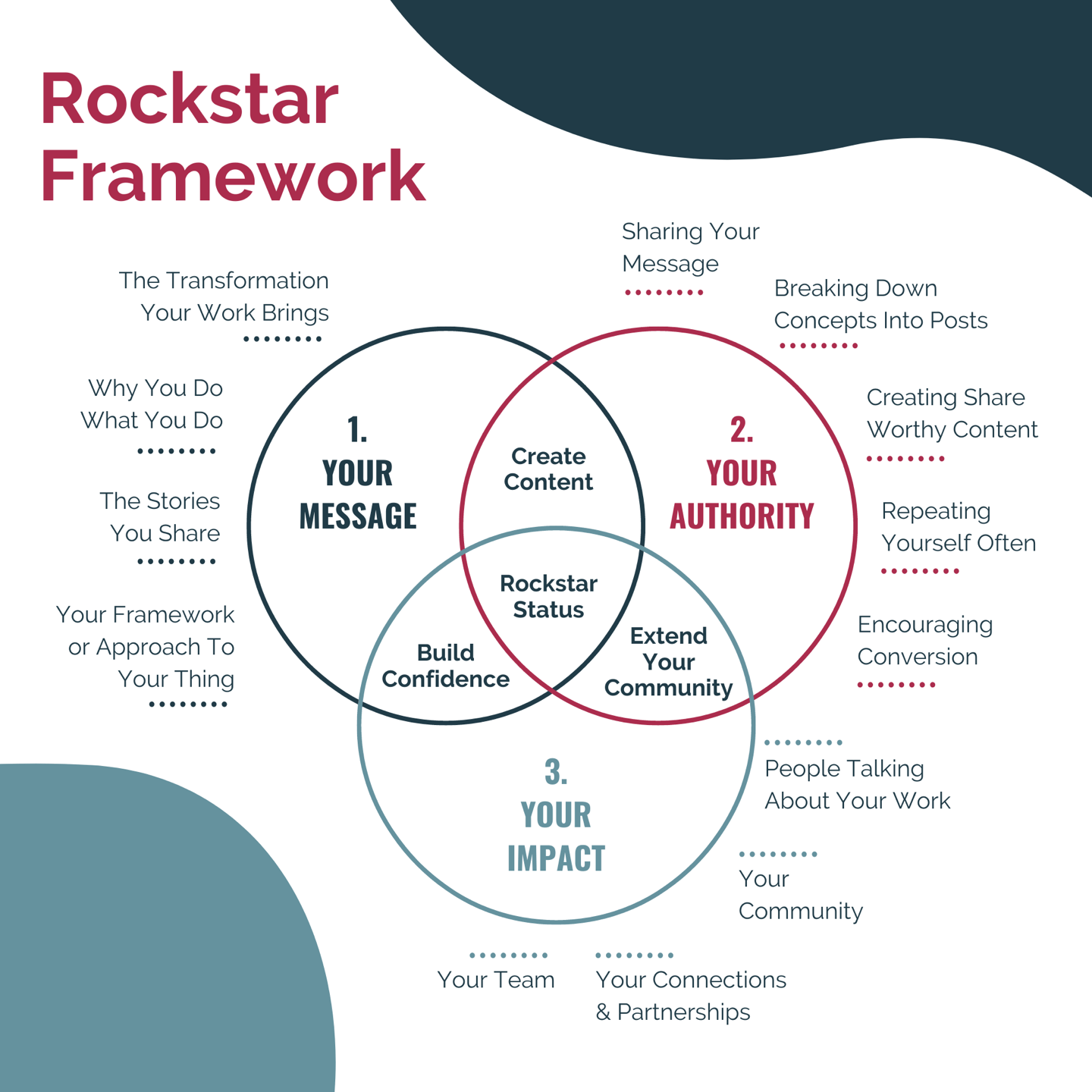 The Social Media Rockstar Framework
How the Social Media Rockstar Framework Works
(Your 3-Step Action Plan)
STEP ONE
Master Your Message
It's crucial to present your message loud and clear to your audience and do so consistently. You'll discover how to nail down the message you want to share, find the perfect audience, and make sure your voice stands out from the rest.
STEP TWO
Build Your Authority
Got your message clarified? Now it's time to step into the spotlight and build authority in your field. Become the go-to and trusted voice in your community. You'll see how to pick a platform to grow on, craft a strategic posting plan, and create scroll-stopping content — from expert copy to beautiful graphics.
STEP THREE
Create An Impact
Leave a lasting impression on your audience. You'll discover how to truly connect with them, build relationships, open yourself up for beneficial collaborations, and use paid advertising. Leverage trending topics (like all the cool kids do), build a team to further skyrocket your success, and properly measure what's working and what might need to change.
Feel Confident Using Social Media Strategically
"I feel confident now, as a result of everything I've learned from you already and will continue to learn from you, that I can use social media strategically, to help me launch the podcast, grow my list, and go from working one to one, to one to many."
-Diann
The Savvy Social Road Map
Your simple, easy-to-follow path to social media success!
You can learn EVERYTHING about social media marketing in the Savvy Social School, but NOT all at once. That's too overwhelming.
Use the Savvy Social School Road Map to find EXACTLY what you need to start learning social media in a way that is sustainable over time, so you stick with it.
With You Every Step of the Way
Take the guesswork out of where to start with our custom plan for your first 30 days in the school so that you can feel at home in the school right way.
Create Content in Hours (Not Weeks)
"I can create the copy for a week — for example, Instagram in an hour. That just blows my mind that I've been able to do that. Before, it took me forever just to do one post."
-Jen
Lean into Next-Level Social Media Marketing Support & Tools
My goal is to help you learn how to use the right social media tools (the right way) so you can elevate your brand, build your community, and be at ease with social media.
That's why you'll get unparalleled support on your journey through the Savvy Social School Roap Map.
In addition to the Savvy Social School Road Map & the Social Media Rockstar Framework, School members get access to courses like:
PLUS all the Extra Goodies your monthly membership program includes:
Canva
Template
Bundles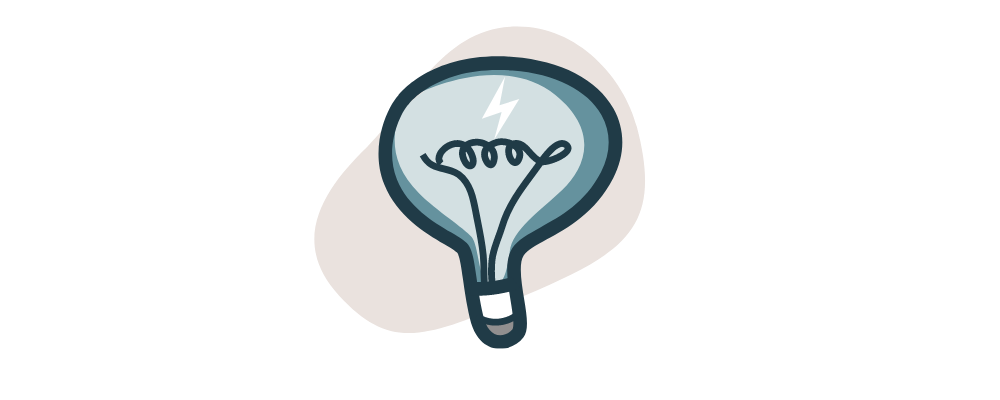 Customizable Canva templates for:
Wellness/yoga
Churches
Parenting
Legal/financial professionals
Inspirational quotes
Carousels and infographics
And many more!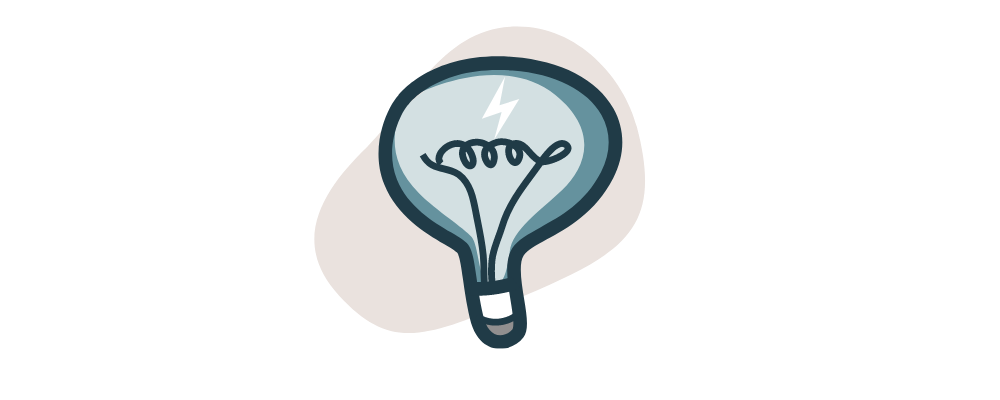 Get access to the best minds in the industry with monthly live training on different subjects.
Monthly
Live Training
and
Special
Guest Experts
The
Savvy
Community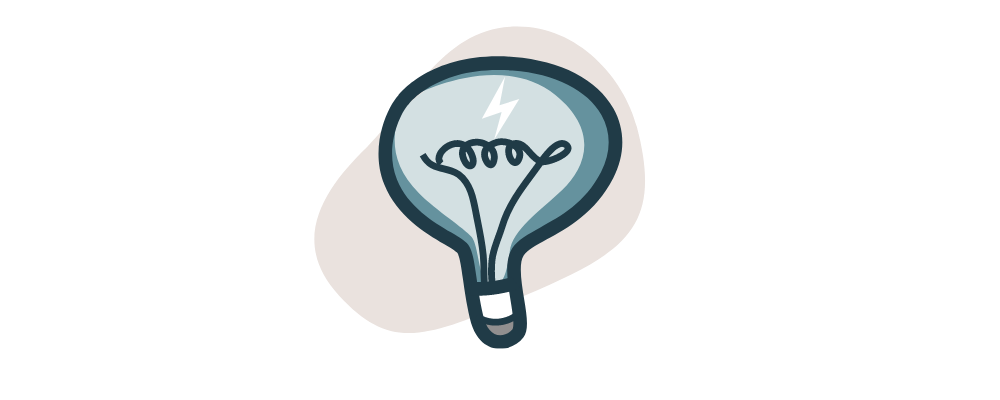 They say you're the sum of the people you hang out with, so hang out with ambitious business owners like yourself. Ask questions, make new friends, and get feedback.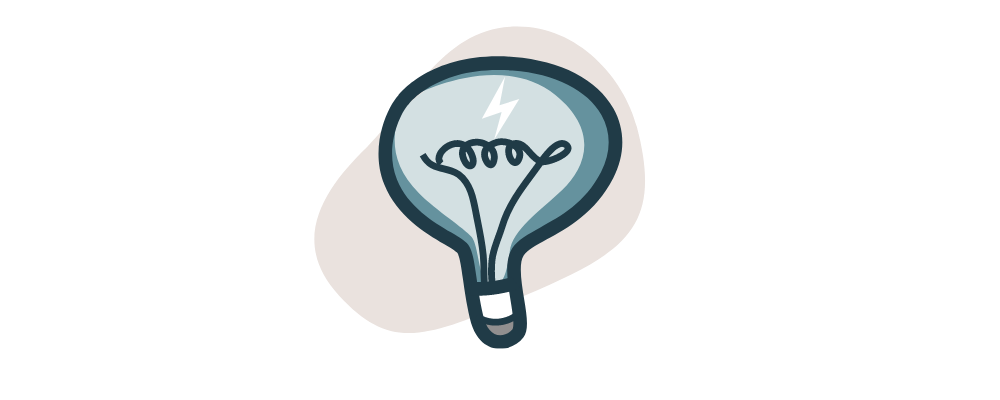 Do you stress about trying to figure out all the bells and whistles of the tools and software?
The tech vault is here to relieve your tech woes and give you tutorials and walkthroughs on different tools and software you can use.
Tech
Vault
Done-For-You
Social
Media Posts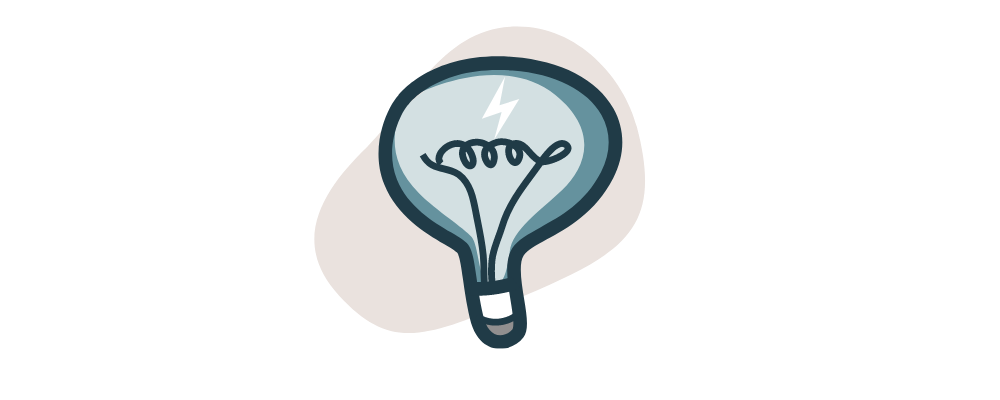 Save some time with our expertly pre-made social media posts.
From engaging Facebook questions, attention-grabbing IG posts, graphics, and more.
OH & Don't Forget the BONUS GOODIES
2022 Social Media Content Calendar (Plus 2021 & 2020 calendars)
Savvy Social School Challenges (including the popular 100 Follower Challenge!)
Live session recordings and training replays
The Social Media Unwind, our one-of-a-kind, bitesize mindfulness lessons for online entrepreneurs and digital content creators.
Get Guided & Supported on Your Social Media Journey
Normally all of these courses, tools, and support would total up to $7k+, but my goal has always been to make social media marketing resources budget friendly and accessible.
Yearly Membership
$499

/ year

SAVE more than $180.

BONUS: Rockstar Planner
JOIN TODAY
If you're serious about building your community and brand with social media — sign up for the annual membership.
Save $$$ with the annual membership PLUS… take home the physical version of the Social Media Rockstar Planner!
Zero risk. You can cancel anytime.
Calm Your Social Media Overwhelm
"I really wanted a straightforward approach, someone who would approach [social media marketing] systematically, so that would calm down my feeling of overwhelm… I need a recording in my head of Andréa going, 'Just one little step. One little step today. That's it.' You're giving us little, tiny things to do everyday, and the accumulation of those things are what's gonna build more mastery for me."
-Joelle
The Savvy Social School is
Perfect

for You if...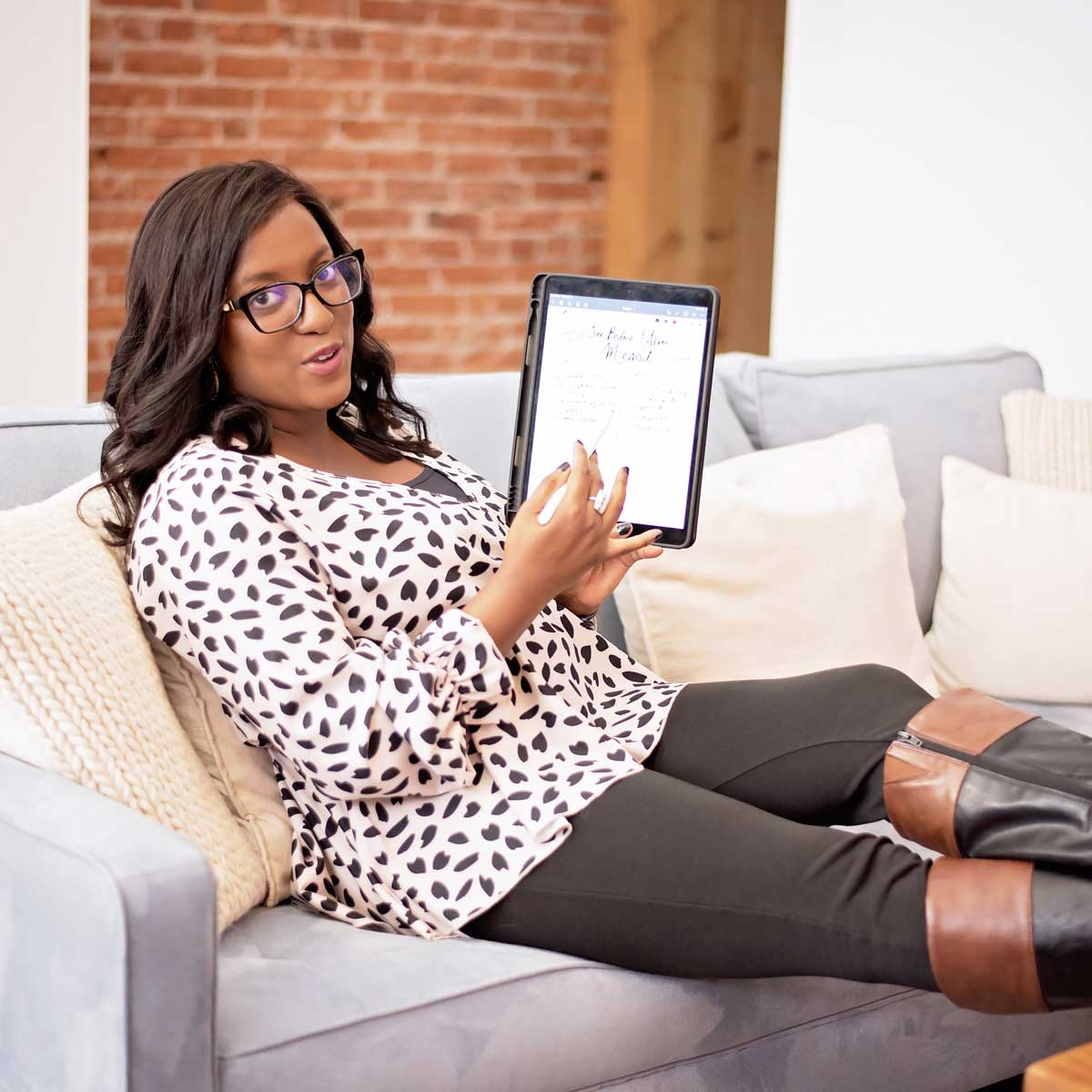 You're a social media marketing newbie looking to build your passion-led, online business with the help of some courses.
You feel overwhelmed and frustrated trying to use social media for your business.
You have a social profile or two but struggle with procrastination and need inspiration to create content.
You want to be at ease with social media and find the simplest route to posting content that generates attention.
You're ready to make creating content for social media FUN!
Make Social Media Easy & Fun
"Andréa is the real deal. She's not a big promises guru, but a regular gal who makes managing social media seem easy & fun for the modern entrepreneur or personal brand. From her podcast to her membership program, Andréa delivers value. I first heard Andrea speak at a conference & quickly became obsessed with her highly relatable style. She's taken me from avoiding social media to embracing it for my coaching & consulting business."
-Diann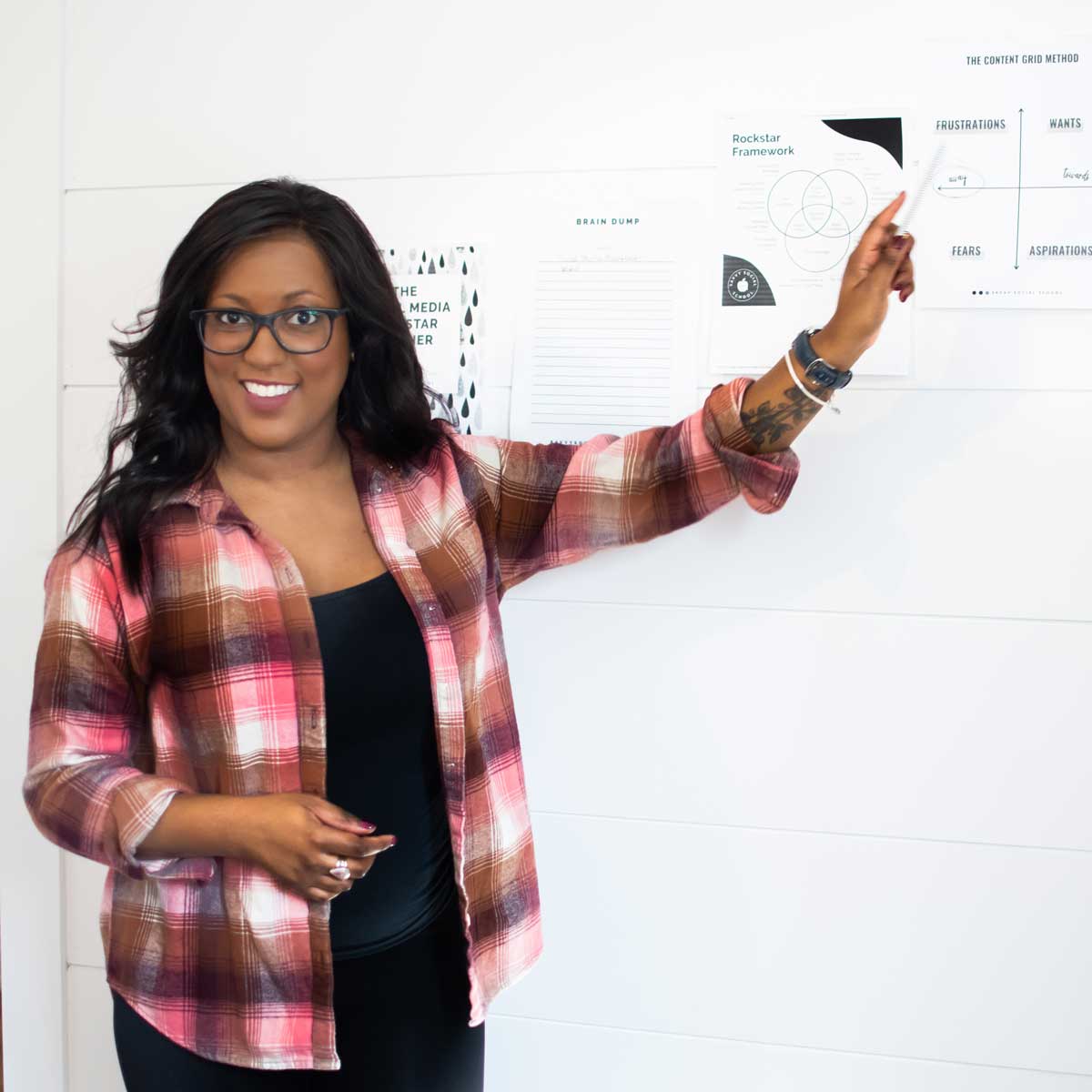 Business coaches
Social Media Managers
Dating coaches
DEI coaches
Leadership coaches
Mindset coaches
Virtual Asssitants
Sexuality coaches
Working motherhood coaches
Weight loss coaches
Cryptocurrency educators
Course creators
Therapists
Podcasters
Podcast editors
Study with Over
200 Students

from Around the World
We're a proud global community of over 200 students representing a wide range of industries:
Find REAL Value in Social Media for Your Business (in Less than 3 Hours a Week)
Sure. You could Google and YouTube your way through learning social media — but you might get burned out before you find all the answers. And you could probably find training on the same platforms elsewhere, but you'd just be adding one more thing to your already-full plate because…
…The Savvy Social School is more than coursework:
It's your simple, easy-to-follow road map to using social media as a tool to grow your business SUSTAINABLY.
It's your go-to for inspiration, templates, calendars, and done-for-you content, so you can whip up professional posts in minutes (not hours) and stay consistent online.
It's your community of digital, passion-led entrepreneurs on the same journey as YOU.
It's your resource for the latest social media trends and strategies — the same ones we leverage for clients at my social media marketing agency.
It's your team of social media pros standing by to offer support when you're stuck and celebrate your ah-ha moments. And you WILL have many, many ah-ha moments. I promise you that!
Your Easy Way to Skill Up in Social Media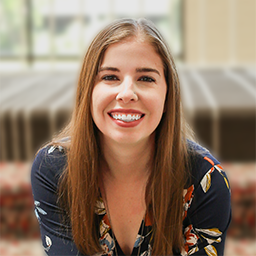 "Access to Andréa's video library is an easy way to skill up in social media, while staying up to date on best practices for new tools. The Savvy Social School offers easy access to Andréa's previously standalone courses and tech tool walkthroughs.
Content is added every month, so there's always something new to check out. One of my next favorite features of the Savvy Social School is Andréa's done-for-you post templates.
Just download the files, customize them for your purposes, and schedule them on your social channels! Even if you're good at creating graphics, these templates can provide inspiration if you're currently running low."
-Maddy
Meet Your Team of Social Media Pros
Imagine the last time you got frustrated creating a Reel. What if instead of scouring the Internet for help, you simply asked an expert? Had them walk you through what to do, and saved you hours and headaches trying to figure it out on your own.
Never get stumped navigating our program with…
Your Customer Service Troubleshooter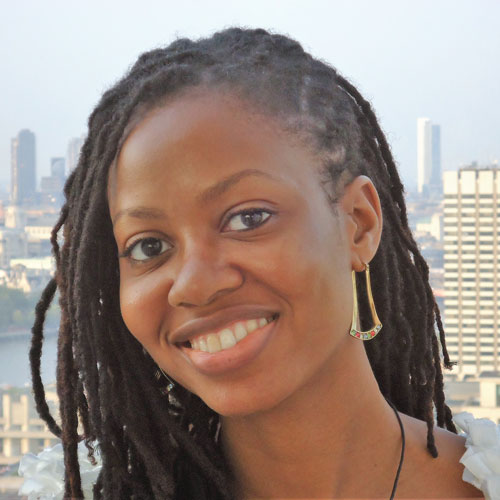 Jemmie
Avoid the common (and costly!) pitfalls of ads thanks to…
Your Personal Paid Advertising Strategist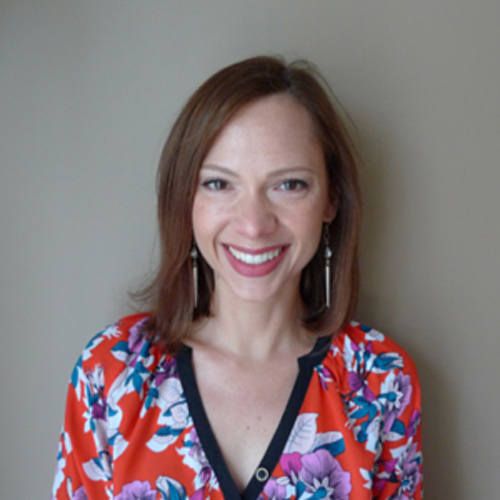 Julie
Create scroll-stopping content with help from…
Your Social Media Graphic Designer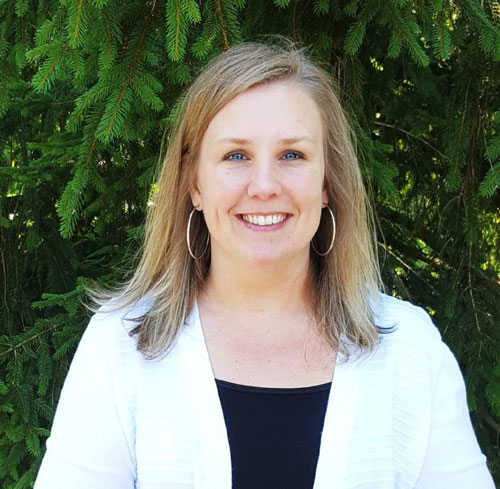 Amanda
Get Helpful Feedback from Your Community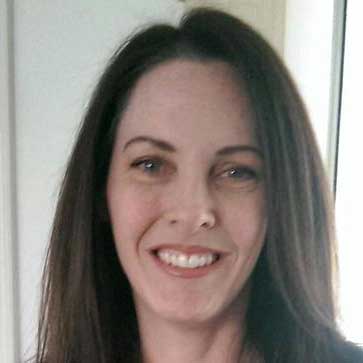 "I received a lot of helpful feedback from the community forum – and I can't express how grateful I am to have access to something like that. I could go on and on about the school, but honestly, I think you'd get a kick out of checking it out for yourself.
-Dana
Join Your Community of Difference Makers
Ready to join the hundreds of coaches, experts, and difference makers in the Savvy Social School?
Yearly Membership
$499

/ year

SAVE more than $180.

BONUS: Rockstar Planner
Join Today
If you're serious about building your community and brand with social media — sign up for the annual membership.
Save $$$ with the annual membership PLUS… take home the physical version of the Social Media Rockstar Planner!
Zero risk. You can cancel anytime.
See Why
Our Members LOVE

the Savvy Social School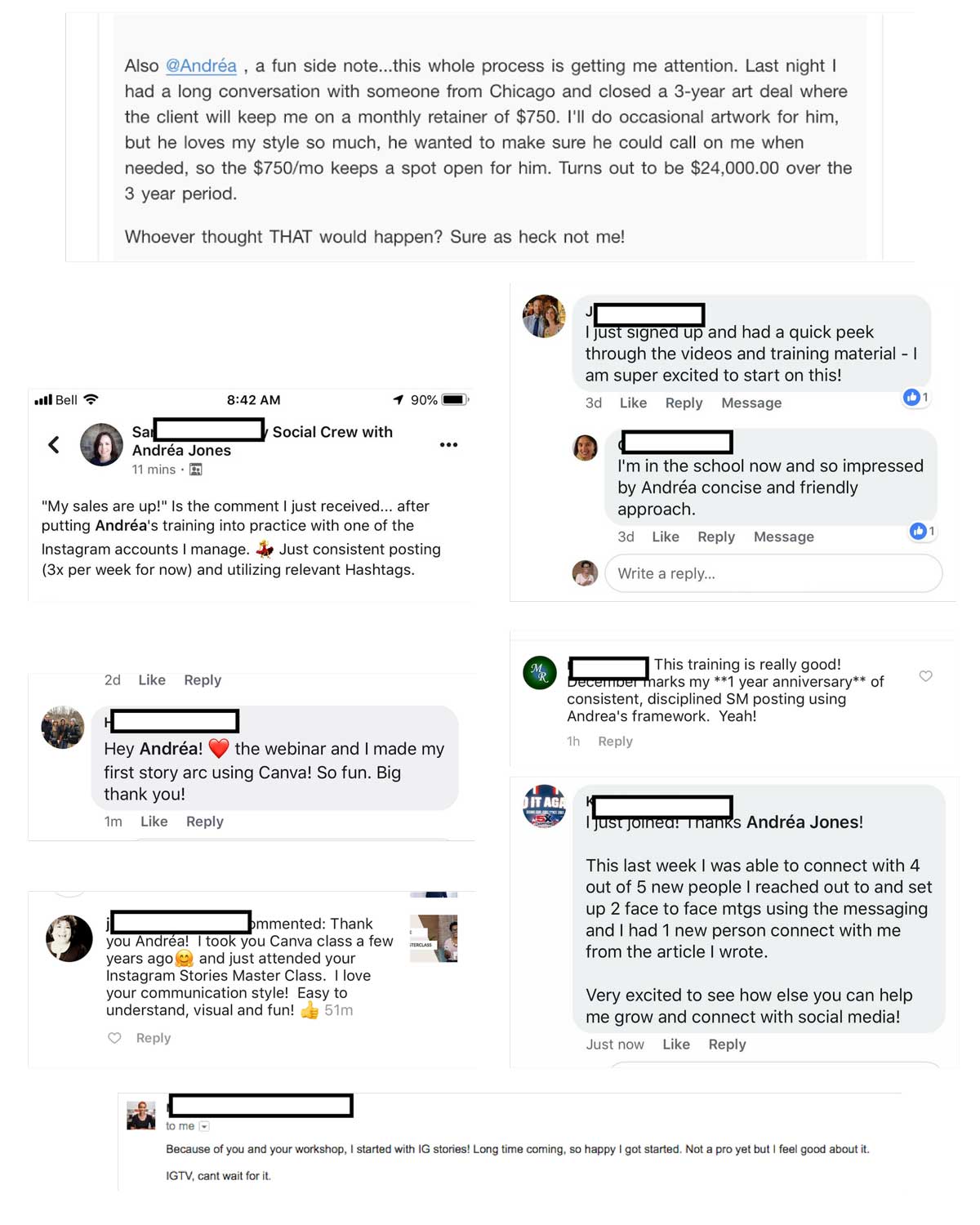 Say Goodbye to Guesswork
You're never left guessing what to do next in the Savvy Social School. The level of communication and hands-on guidance (in addition to the courses and ready-to-post content) is truly rare and can only be found here.
Included with Purchase:
Take a Peek Inside the School
Frequently Asked Questions
Yes! The School was created for business owners just like you. The coaching and courses are designed to help at any stage of your business journey.
Absolutely! While the school was created for business owners, the courses, training, and materials are useful for social media managers, as well.
Sure. But you'll get the best value by maintaining your membership status. Each month comes with private coaching, new training, and new done-for-you social media posts.
The Savvy Social School is more than a bundle of courses. The done-for-you posts alone are enough to give you a leg up. The level of hands on feedback you'll get as a member is invaluable compared to Google searches and YouTube videos.
What makes the Savvy Social School different?
The Savvy Social School is more than a bundle of courses. The done-for-you posts alone are enough to give you a leg up. The level of hands on feedback you'll get as a member is invaluable compared to Google searches and YouTube videos
Everything you could ever need to get you started all in a single location. Anything from social media starter kits to templates to social media calendar. It has answers to all my questions as well as extra advice from experts who have already "been there, done that" and are open to helping others. Just an amazing toolkit and community to have on hand through the ups and downs
Damn, you're good, Andréa! Every time I ask a question, you're the first person ever since I started building my businesses in 2005 that has made a lick of sense. I'm actually getting emotional here. Where the hell have you been hiding woman!?? You have given me hope for the very first time on this subject. Honestly. First time ever.
The way that Andréa presents things is so straightforward and practical. She's such a good teacher.
I've really enjoyed the help you provided at Savvy Social School! It's made a big difference for me in understanding how I can use Social Media for success instead of being a distraction
I'm currently in the beginning stages of launching my business on social media. Before being enrolled in The Savvy Social School I was nervous and stuck on finding the perfect strategy to launch my candle business on Instagram. After watching the training inside the school called, how to launch on social media I am now confident that the launch will go well because Andrea equipped me with the tools and strategies to make sure the launch is a success. Any additional questions that came up I was able to email Andrea to receive clarity. I also love that she provides ready-made graphics to post on social media. If you are like me and felt stuck and unsure about launching a business on social media The Savvy Social School is for you! Whatever platform you choose Andrea covers it all. The Savvy Social School is worth every penny!
I am the director of a small nonprofit arts org in Brooklyn and decided 2020 was the time to really understand how to engage with social media and digital marketing with purpose and intelligence. Your school, and podcasts really helped us create a framework for moving forward. Now we know how to pay attention to our results and connect them to scalable changes in our business.
I would say it's a fantastic way to get into a new gear with social media and digital marketing. it's a great 'spring cleaning' for intermediate users, and a welcoming introduction to beginners.
Great well-rounded social media school that goes beyond Instagram and looks at all the social media platforms. The coaching hour where you can get your questions answered live, via Zoom, and feedback on your social media strategy and feed from Andrea is exactly what I needed. I felt stuck and now I have a clear vision where I need to go. 100% worth it!
Earnings Disclaimer
Any earnings or income statements or examples shown through this website are only estimates of what might be possible now or in the future. There can be no assurance as to any particular financial outcome based on the use of our website. You agree that I am not responsible for your earnings, the success or failure of your personal or business decisions, the increase or decrease of your finances or income level, or any other result of any kind that you may have as a result of information presented to you through our website. You are solely responsible for your results.
Testimonials
I present testimonials and insights about other people's experiences with this website for purposes of illustration only. The testimonials, examples, and photos used are of actual clients. They are not intended to represent or guarantee that current or future clients will achieve the same or similar results; rather, these testimonials represent what is possible for illustrative purposes only.
This website is in no way sponsored, administered, or associated with Facebook, Inc. or Instagram, Inc.
We'd love to hear from you! Reach us at [email protected].