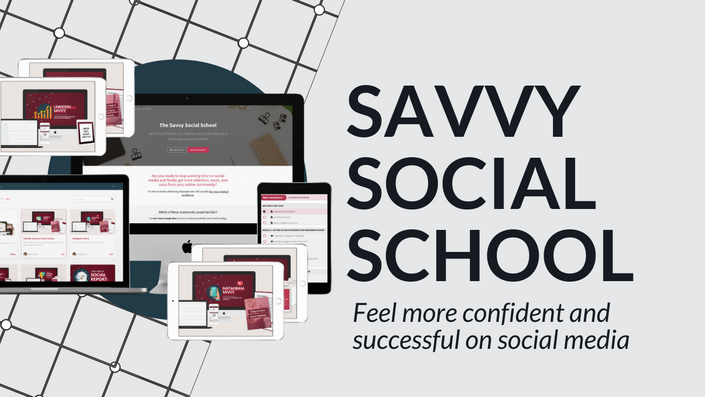 The Savvy Social School
Get the confidence you need to use social media as a tool to grow your business
Watch Promo
Become a Member
Are you ready to
stop wasting time

on social media and finally get more

attention, leads, and sales

from your online community?

It's time to build a following of people who will actually buy your product or offering.
Which of these statements sound familiar?
You don't have enough time to focus on creating a profitable social media strategy.

Your mind goes blank when you try to think of what to post on social media.

Creating graphics and writing captions is too time-consuming to maintain.

You're struggling to get followers on social media outside of your friends and family.

You're tired of searching through outdated articles only to find strategies that don't work anymore.
If you said yes to any of those statements, you're in the right place. Here's the thing:
You CAN build a following of people who would buy your product or offering.
You CAN have freedom from your devices and grow on social media without the endless scrolling.
You CAN start seeing real results — results that actually make a difference to your bottom line.
You can totally have this by following the same framework I use every day to help busy people just like you create social media strategies that work for them.
Success on social has a snowball effect. The question is, are you ready for success?
Hi there! Andréa here.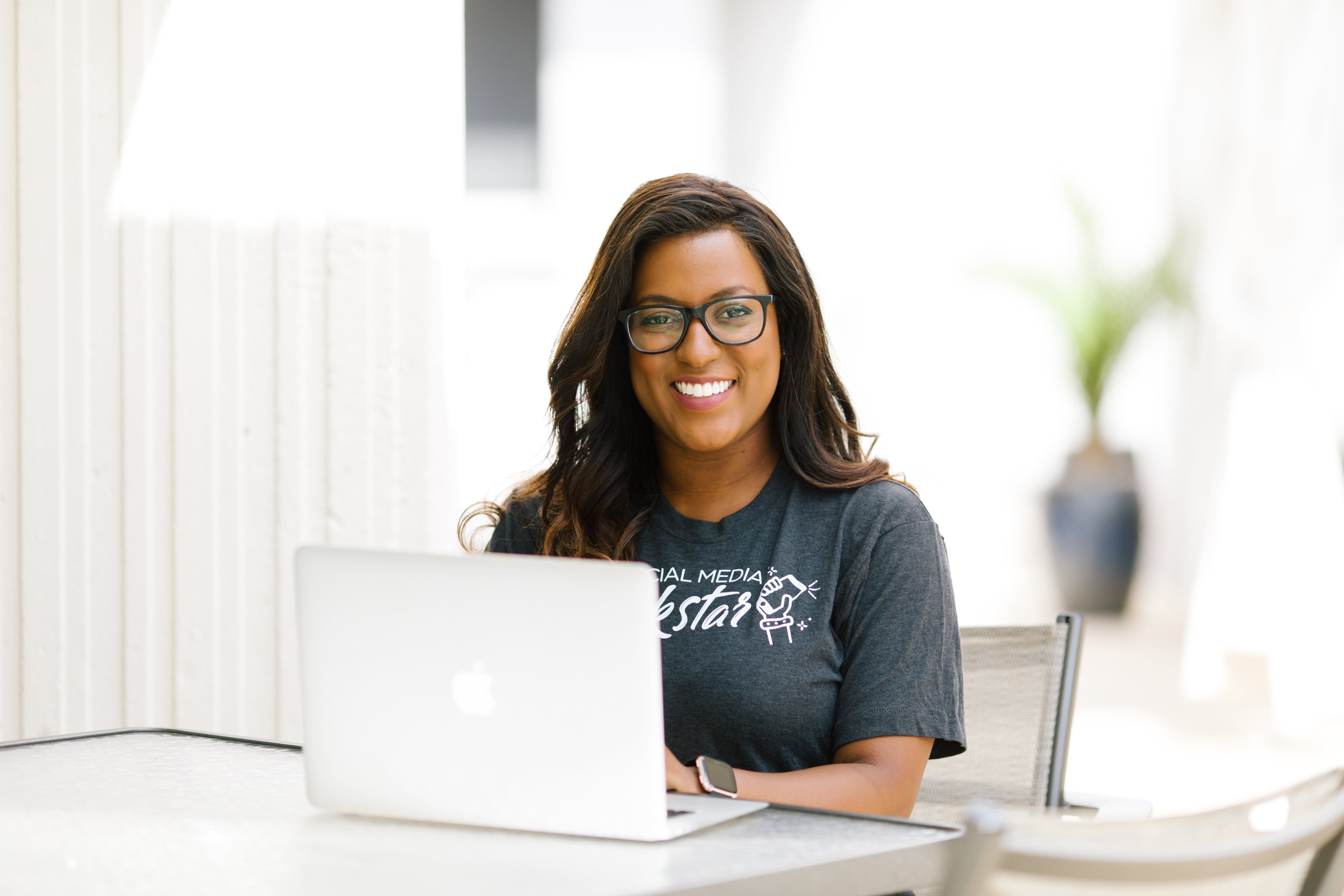 I've helped hundreds of business owners achieve success on social media and now I'm sharing these strategies with you.

What I know for sure is this: social media can be a simple and fun way to grow your business. All you need are the right tools. Introducing...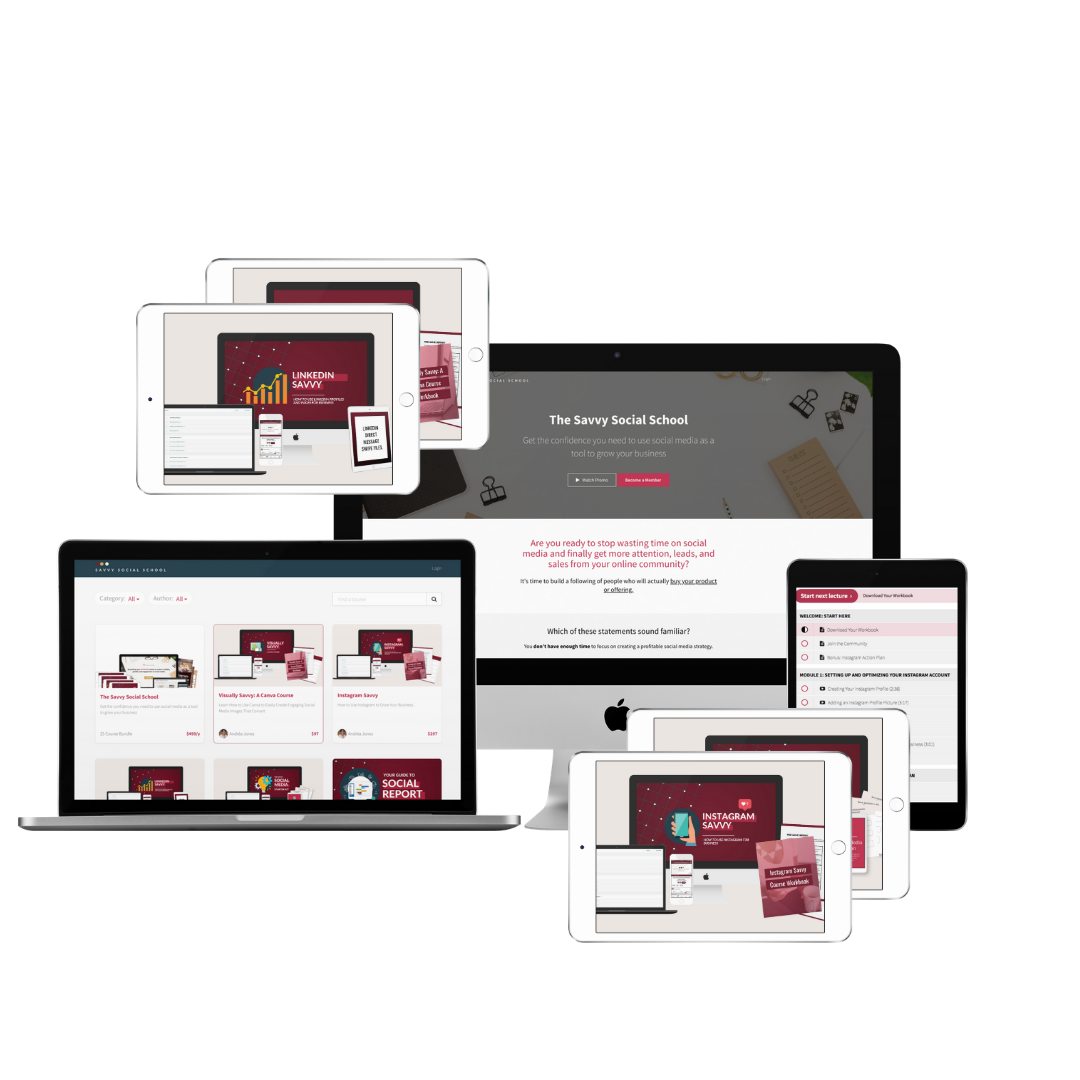 The Savvy Social School
a results-focused monthly membership program that will help you get more attention, leads, and sales through social media.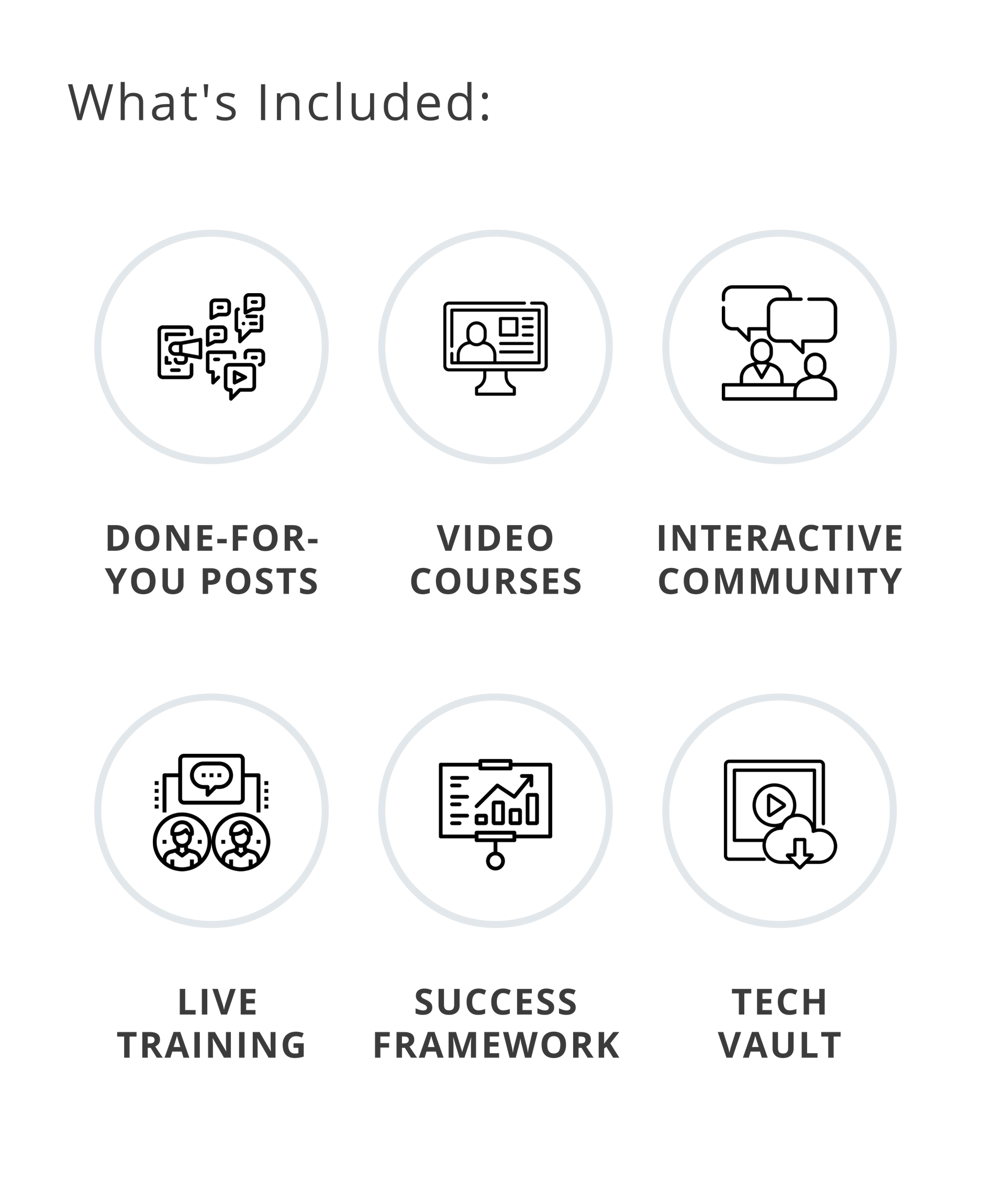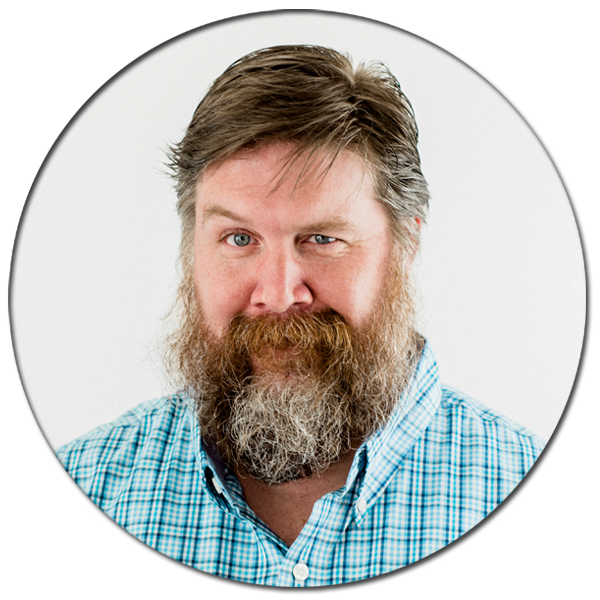 "Damn, you're good, Andréa! Every time I ask a question, you're the first person ever since I started building my businesses in 2005 that has made a lick of sense. I'm actually getting emotional here. Where the hell have you been hiding woman!?? You have given me hope for the very first time on this subject. Honestly. First time ever."
- Jaime Buckley, Author and Creator of Wanted Hero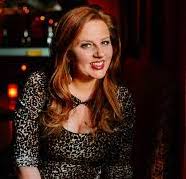 "The way that Andréa presents things is so straightforward and practical. She's such a good teacher."
- Amber Hurdle, Host of The Bombshell Business Podcast

This is not just a course.
This is not just a series of courses.
This is a community. This is a coaching program. This is a leg up. This is how you start seeing a return on your time and level up your business.
When You Join the Savvy Social School, you'll walk away with...
A social media account that you're proud to show off to new connections

A system to consistently posting on social media

A time-saving method to adding new followers every single week

A path that leads people to buying your product, service, or offering

Here's What Awesome People Are Saying...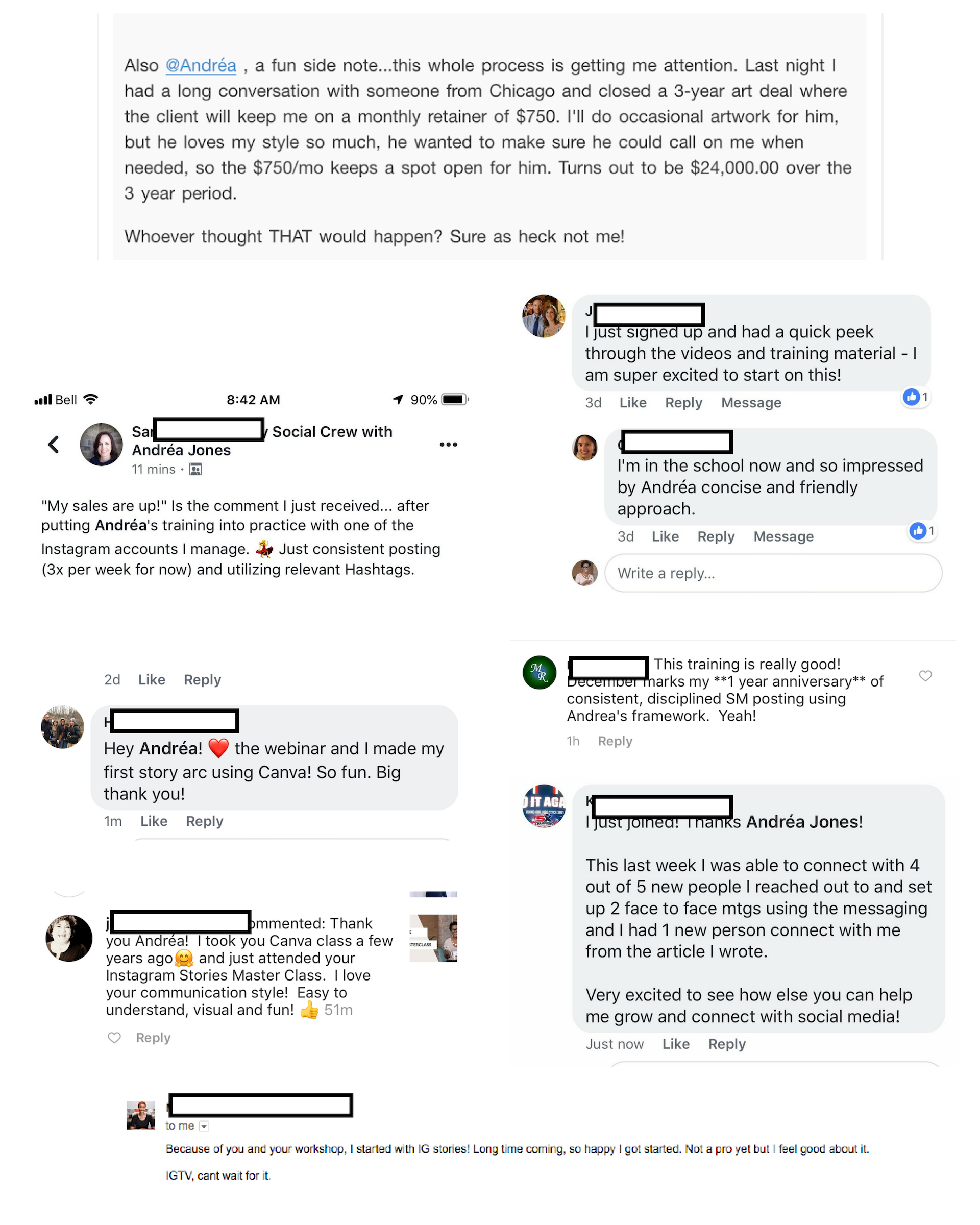 You decide your commitment level.
If you're feeling scared or nervous about this, that's perfectly normal! One of my core values is to never lock you into something that isn't working. If you try the Savvy Social School and don't find it useful, you don't have to continue. The monthly payments do not mean you're locked in. If you test drive the School, and you don't like it — no hard feelings. You can cancel at any time.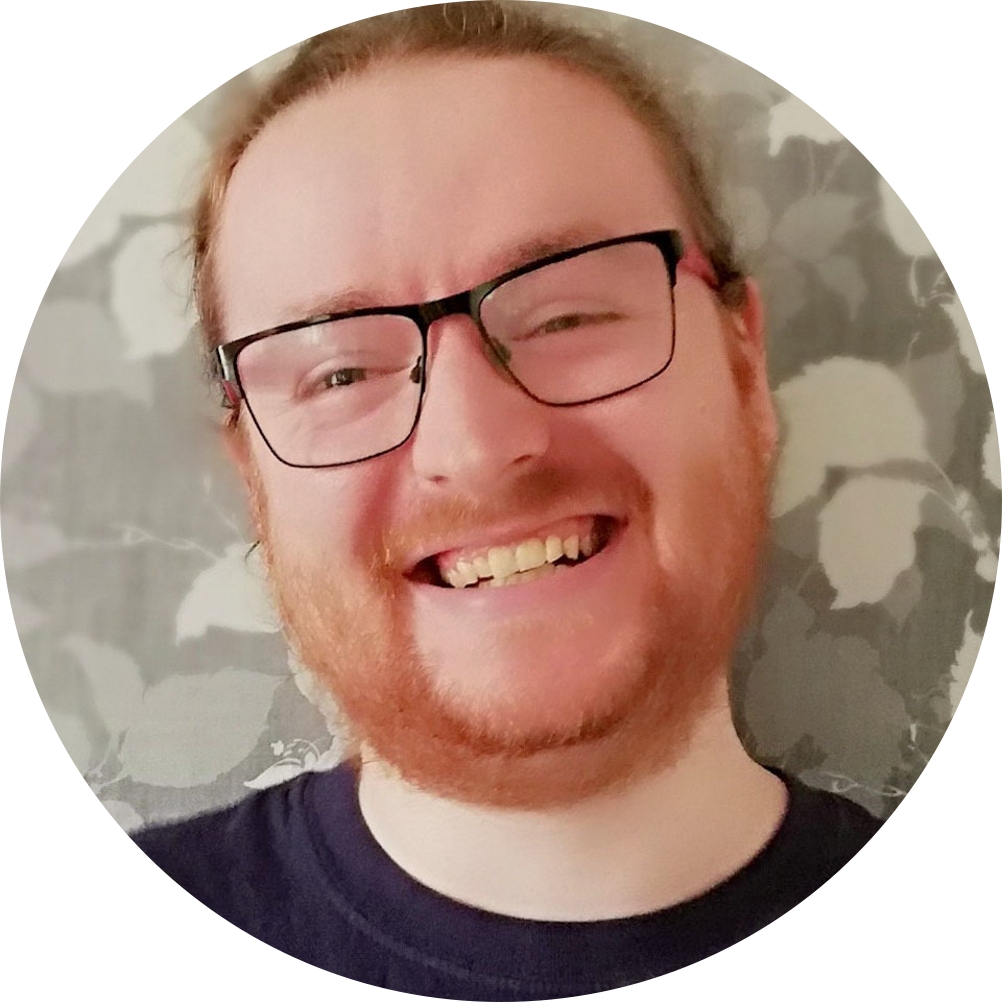 "I've really enjoyed the help you provided at Savvy Social School! It's made a big difference for me in understanding how I can use Social Media for success instead of being a distraction!"
- Jonathan Stewart, Musician and Teaching Artist at BusyGuitarist.com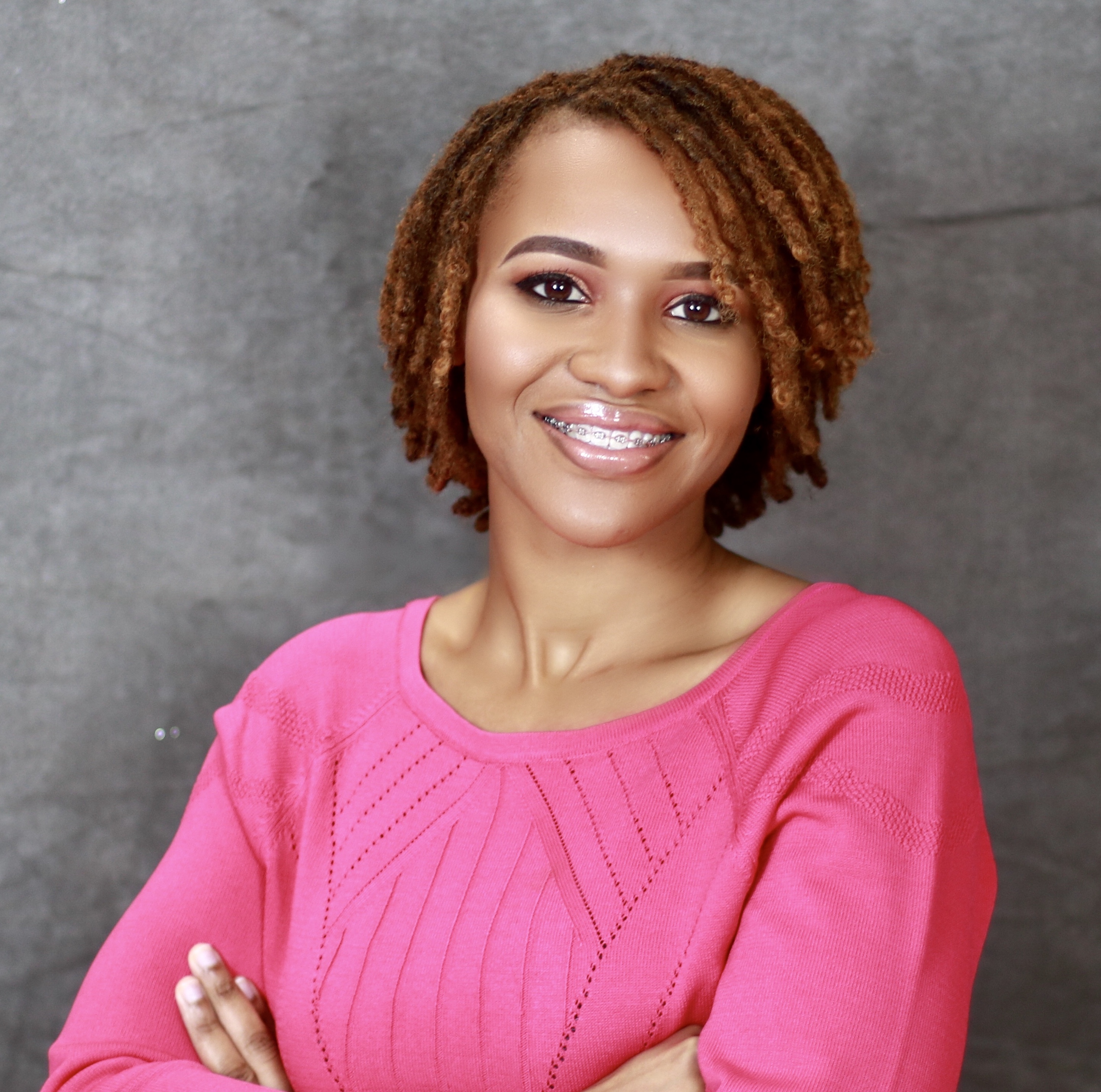 "I'm currently in the beginning stages of launching my business on social media. Before being enrolled in The Savvy Social School I was nervous and stuck on finding the perfect strategy to launch my candle business on Instagram. After watching the training inside the school called, how to launch on social media I am now confident that the launch will go well because Andrea equipped me with the tools and strategies to make sure the launch is a success. Any additional questions that came up I was able to email Andrea to receive clarity. I also love that she provides ready-made graphics to post on social media. If you are like me and felt stuck and unsure about launching a business on social media The Savvy Social School is for you! Whatever platform you choose Andrea covers it all. The Savvy Social School is worth every penny!"
- Arion Broussard, CEO, Love Shines Candles

Frequently Asked Questions
I'm just starting my business. Is the Savvy Social School for me?
Yes! The School was created for business owners just like you. The coaching and courses are designed to help at any stage of your business journey.
I'm a social media manager. Can I sign up for the Savvy Social School?
Absolutely! While the school was created for business owners, the courses, trainings, and materials are useful for other social media managers, as well.
Can I sign up for one month and then cancel?
Sure. But you'll get the best value by maintaining your membership status. Each month comes with private coaching, new trainings and new done-for-you social media posts.
What makes the Savvy Social School different?
The Savvy Social School is more than a bundle of courses. The done-for-you posts alone are enough to give you a leg up. The level of hands on feedback you'll get as a member is invaluable compared to Google searches and YouTube videos.